Hey Guys!
I officially arrived into LA on Friday June 6th, and so far it's been pretty sah-weet!  Arriving here was bittersweet though, as it ended an amazing 2 week road-trip with my awesome girlfriend Becky.  We traveled through Austin, New Orleans, Nashville, the Grand Canyon, and survived a friendly deer poking our tent all night while camping in Colorado.  If you're interested in hearing more about that and our other stops, you can check out our travel blog here:  
KevBexToLA.Wordpress.com
.  A huge thanks to friends who hosted us along the way:  Ashley, Jessica & Eric, Jon, & Abby.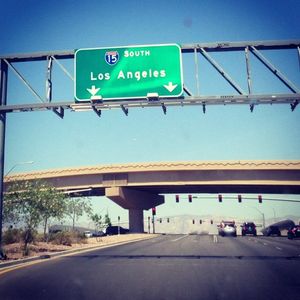 I'm currently staying with my good buddy Brendan Keane Barr and his wife Allison in Santa Monica (7 streets from the beach...rough life!), and starting in July it looks like I'll be moving to the valley.  Here in LA there is what's called "June Gloom", meaning that the weather isn't 100% perfect all day long (womp womp womp).  It starts out slightly hazy in the morning, and then by 3pm it's back to beautiful.  I've been enjoying some oceanside runs, the opportunity to practice a lot during the day, and tonight I'm going to go check out some music.  I don't expect to have any gigs lined up just yet, but I am itching to play and I hear some blues jams calling my name...
So remember when you were back in school and a 71% on the big test got you a C-, and while the 'rents might not have been stoked with that, at least you never had to take that damn class again?  Well, with Pledge Music (the way that we are funding the recording, mixing, and mastering of the new Jamie Lynn Hart Band Album), it's not quite like that - it's basically "All or nothing", "Go BIG or go home", "A+ or Bust"...(I can keep going).  Basically if the funding goal isn't met, then we don't get any of the previously donated cashola and sadly this would significantly delay the new album coming out.  
Right now the campaign is at 71% of the goal, and there's 7 days left.
  If you haven't seen the promo video already, I urge you to watch the hilarious
Pledge Music Campaign Video
 (thanks again to Andy Wesby for his help!), and if you can, please donate to help us get this album to your ears.  There are still some great pledge incentives left (including Handwritten Lyric Sheets, Exclusive T-shirts, and handmade jewelry from Jamie herself - just to name a few) and even just pre-ordering the album is a huge help for the band.  And I think you're going to like the new songs on this album - we worked our butts off writing and it's got a distinctly different sound from "Anticipate", though it's still sounds like JLH Band.  We're proud of it, and can't wait to share it with you.
Last but not least, stay tuned for some new content for the website - I'm going to add some video lessons, gear reviews, and other content (let me know if you have any other requests / ideas).
Thanks for reading!
-KeV