It feels like I"m finally just getting used to it being 2017, and now it's almost 2018.  Life moves too fast (though sometimes it feels like not fast enough).
I haven't posted anything on this site in a while as I primarily was using it to promote upcoming shows, and I've taken some time off of shows.  That said, I've decided to use this as my personal and music blog going forward, so you can expect to see some more content here on various topics (fitness, music, life stuff, where to get the best pizza in LA, motorcycle geekouts, etc).  
Before I dig in on some updates, I sincerely hope you and your family have an excellent holiday season.  For me this can be a stressful time of year, and though much of my family and friends are miles away, I am grateful to have some seriously rad people in my life and look forward to life slowing down a bit as we approach 2018.  
Updates:
1)  Guitarist On Board Sticker
Perhaps as a reaction to many of my friends adult'ing hard and having kids, I've taken the "Baby On Board" sticker idea and put a Guitarist twist on it.  The process of creating this was fun, and it's been my first experience of having something made and working to sell it through amazon.  No matter how it shakes out, I'm glad this product exists, and I've got one on my car (which was where the idea came from in the first place - I wanted to be able to get one for myself).  You can check it out here: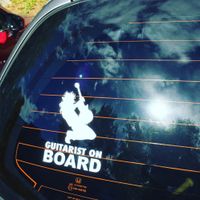 2)  Vocal Lessons
Beginning a beginner at an instrument is hard!  I've avoided singing like the plague all of my musical life, and I'm finally bucking down (wayyyy imperfectly) and trying to put in 30 minutes a day of practicing.  It's cool to see little bits of progress, but man it can be challenging, especially when it feels like I just can't get it.  I remember feeling that way when I was learning guitar too though, and maybe it was because I was younger or something, but I remember pushing through those rough patches of practicing to no avail and finally achieving breakthroughs in my technique or understanding of the instrument.  As a dude who struggles with always wanting to look like I've got it all together, jumping into a new skill that I don't have a natural ability for has been really a positive move, and is helping me become a better teacher for guitar as well.  
I'm taking lessons with Radina at Vocals On Stage, and I highly recommend taking lessons with her.  She also does Skype lessons if you're not in the LA area.  Her website is:  http://vocals-on-stage.com/
3)  Viper Room Jam on Monday Nighs
I've been hanging out at the Viper Room on Monday Nights for the Sunset Jam put on by Erik Himel.  Erik does a killer job of running a tight jam, and it's appreciated.  Every week is a different theme (i.e. "The 80's", "Yacht Rock", "A Night of Tom Petty"), and the musicians who play here are F'ing Awesome.  
Here's a vid from one of the Jams this year:
That's it for now!  A few future topics I plan to post about are:
*  My experience with TMS, Dr. Sarno, and Chronic wrist/arm pain.
*  Weight Lifting - Why I like it and who's advice I follow.
*  New Music Projects...
*  Single Life in LA
*  Power-Vision Dynojet upgrade for my 2015 Harley Fat Bob
*  Free Guitar Lesson Content
*...and anything else you're interested in.
Have a great rest of the year and hope to see you in 2018 :)